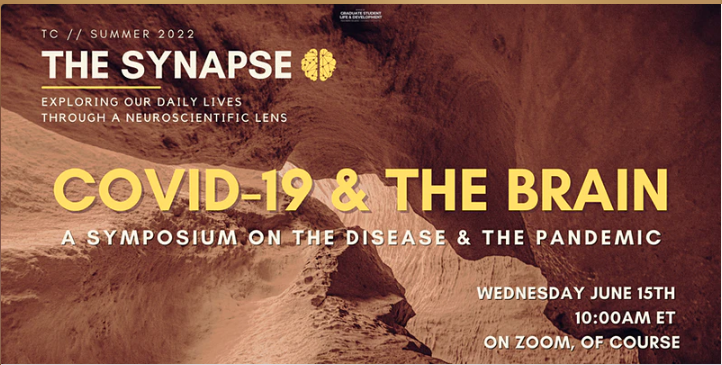 Dear SfN Sg Community,
Ananya Raghuram a student member of the SfN Singapore Chapter is inviting the Chapter members to an event organized by The Synapse. The Synapse is a Columbia University student organization that is passionate about making neuroscience accessible to all. They will be hosting a COVID & The Brain Symposium on Wednesday, June 15th at 10 AM EST. Register for Eventbrite event link: https://www.eventbrite.com/e/covid-19-symposium-tickets-344771560017 
About the symposium
What does COVID-19 do to the brain? How has the pandemic affected our minds? How can we center healing?
Join us on the 15th of June for a virtual symposium on COVID-19, with two multidisciplinary panels: one on the effects of the disease, and the other on the effects of the pandemic.
This event will bring together experts on COVID-19 from the fields of neuroscience, medicine, physical therapy, psychology, epidemiology (and more) to discuss the far-reaching implications of this global pandemic physically, mentally, and socially. We want to look back to understand the implications of what we've all experienced, and look forward to focusing on what comes next.
All are welcome to learn more about these issues from leading experts, with no prior knowledge required. Register here. If you would like to connect to Ananya Raghuram, please email her here.